William Hawkins Oil Painting Workshop
Join us for an unforgettable artistic adventure at our Annual Summer Workshop with artist William Hawkins. Discover the world of impressionist oil paintings as Hawkins, known for his colorful and stylized artwork, shares his expertise and techniques.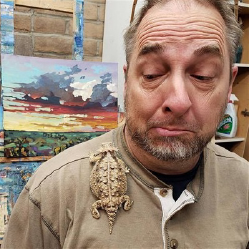 Whether you're a beginner or an experienced artist, Hawkins's guidance and insights will help you develop your skills and discover new horizons in art.
Limited spots are available so reserve your place now and embark on a journey of artistic exploration. Join us from July 21 to 23 in Medora as we celebrate the joy of creating art and the pursuit of excellence in both craft and life.
Friday – Sunday July 21-23, 2023 – $285
Day 1: July 21, 9:00 am – 5:00 pm:
The Nature of Oil Media (Oils)workshop will take the participants on a journey of exploration and experimentation with oil-based mediums. Techniques will include transparent, translucent, and opaque applications. Enjoy the Stylized Impressionist approach to North Dakota Badlands landscape painting.
Gather at the Life Skills Center (LSC) of the Theodore Roosevelt Medora Foundation outdoor west deck at 9:00 am for discussion, demonstration, layout, and planning session until the 12:00-1:00 lunch break. Then move indoors for demonstrations and application of the oil medium and personal instruction by William Hawkins as he guides you through the process to create a beautiful Impressionist oil painting.
Day 2: July 22, 9:00 am – 5:00 pm:
Further demonstrations and guidance of application techniques throughout the day.
Day 3: July 23, 9:00 am – 5:00 pm:
Further demonstrations and guidance of techniques throughout the day until the final hours in which the participants will be able to show their completed works of art.
Teachers can apply for 1 CEU from UND. Find out more about this workshop here