The Badlands Art Show opens this weekend, November 10th through the 12th.
Ramada Grand Dakota Lodge, Dickinson, North Dakota.
This year's judge will be Dr. Andrea Donovan from Minot. Donovan is an associate professor of art and humanities at Minot State University.
Dates and Times to Remember:
Thursday, 9th from 7:00 am to 5:00 pm: Hand delivered works due at Ramada Grand Dakota Lodge. Large works before noon, please.
Friday, 10th from 6:00 pm to 9:00 pm: Opening reception for artists and public. Silent Auction (more below).
Saturday, 11th from 10:00 am to 4:00 pm.
Saturday, 11th from 11:00 am to 1:00 pm Empty Bowls Fundraiser (more below).
Sunday, 12th from 10:00 am to 4:00 pm.
Sunday, 12th after 4:15 pm Artists must pick up entries.
Artists, please review "Delivery of Art Work" for details about bringing your art to the show AND when to pick up your art after the show.
Silent Auctions
The November show will have two separate silent auctions this year. The first one will be held on Friday November 10th.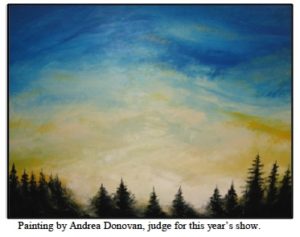 The second silent auction will be held on Saturday November 11th. Members are encouraged to donate baskets themselves or to ask others who are willing to donate baskets to do so. For more information contact Marcia Sickler. (marciasickler@hotmail.com)or bring your auction items to the meeting on Nov. 6th.
Purchase Award Preview
The Purchase Award Preview and special reception will be held on Friday evening November 10th from 6:00 pm to 9:00 pm. At the preview, we invite all who are considering buying works of art to view the show and submit bids (in a silent auction) for the works of their choice. The minimum bid is the asking price of the artist.
Bid blanks must be turned in at the front desk no later than 9:00 pm Friday. The highest bid (above the asking price) will be the successful bidder.
North Dakota Empty Bowls Fundraiser, Saturday

Stop by the show on Saturday and have lunch for a good cause. This year, the North Dakota Empty Bowls Project fundraiser will be held at the Ramada Grand Dakota Lodge from 11:00 am to 1:00 pm.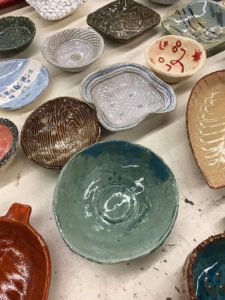 Robin Reynolds, DSU ceramics instructor, organizes Empty Bowls each year. Last year, the event raised more than $4,000 for local food pantries. For the event, local artisians contributed their time and resources to create one-of-a-kind, handcrafted ceramic bowls for the event. Special thanks for Sponsor bowls: Julie Schuster, Sarah Snavely, Caitlin Freidt, and Tod Winter.
Cost is $15 per bowl, limit two bowls per person. Soup and bread is provided.
Every year, approximately 2.3 to 3.5 million people in America experience hunger and homelessness. Empty Bowls Project is a national fundraising event to bring awareness to hunger in America. Proceeds of the North Dakota Empty Bowls go to food programs such as the Back Pack Program and Domestic Rape and Crisis Center. Sponsors for the ND Empty Bowls are Dickinson State University, Ramada Grand Dakota Hotel, United Way of Dickinson and Sacred Heart Monastery.