2018 Badlands Art Association
Summer Workshop
Michael Dunn, The Nature of Water Media
Thursday – Saturday, June 21-23, 2018
Visual arts classroom, Dickinson High School
Michael Dunn will return to western North Dakota for another exciting art workshop.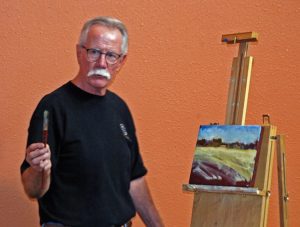 The Nature of Water Media (Acrylics) workshop will take the participants on a journey of exploration and experimentation with water-based mediums. Techniques will include transparent, translucent, and opaque applications.
Michael Dunn is a lifelong teacher and artist. He is a dynamic instructor, willing to work with each participant, and he will encourage you in your next steps as a developing artist.
A Not-So-Still-Life: Michael Dunn Reflects On A Life In Art And Education
Open to high school students through adults. The participants can expect to develop skills and confidence in:
Value and contrast
Composition
Color studies: using complementary colors as a starting point
Subject matter decisions
Utilizing multiple references when creating a painting
Creating a pre-artist's statement
Incorporating other mediums such as colored pencils, pastels and watercolor
Critique by instructor and participants
2018 Artist Summer Workshop Schedule
Thurs., June 21 – 4:00 pm – 8:00 pm
Friday, June 22 – 9:00 am – 5:00 pm
Sat., June 23 – 9:00 am – 5:00 pm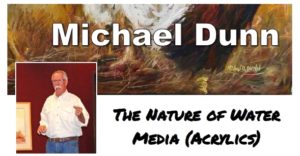 In our efforts to support K-12 art teachers, the Badlands Art Association will again apply for CEU credit to be available for this workshop through the University of North Dakota.
Download Registration Form here Michael Dunn promo and registration
You can pay your $100 deposit to Badlands Art Association through PayPal here: