2017 We Celebrate Our 47th Annual Art Show!
November 10 – 12 in Dickinson, North Dakota
The Badlands Art Show is an open show.  An "open" show means that you do not have to pass a judge to get in the show.  The Badlands Art Association is a small group; this is our major event for the year.  We do the show in order to offer artists of all abilities the opportunity to showcase their work and to give the public a chance to see the wide range of art being created in our area. The three-day regional fine art  show features many different artworks including clay pottery, oil paintings, water colors, pencil sketches, and photography.
There are three divisions to the show: amateur and professional, plus a student show.
Student entries are coordinated through local schools.**
The call for entry forms for the adult divisions are mailed in August. Entry forms should be mailed in by specified deadline.
If you want early notification of the BAA show, please considering join the BAA as a member.
2017 Electronic Entry download 47th Annual BAA Show 2017_Call for Entries.
Student entries.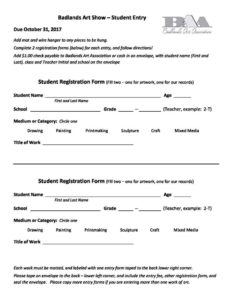 **HOMESCHOOLERS – this is the form you can use for your children to enter the BAA Fall Show. Students in local elementary, middle, or high schools, please contact your art teacher.